Hampshire couple fined after dumping lizards in hedge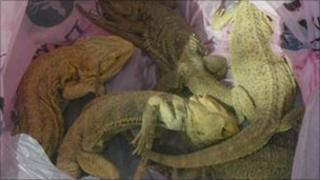 A couple who dumped five pet bearded dragons in bin bags have both been fined £1,113.
Andrew and Rodney Bews-Foster admitted animal cruelty after fingerprints led investigators to their home in Fordingbridge, Hampshire, in 2009.
Three of the five lizards, which the couple thought would be easy to keep, survived and have been rehomed.
The pair were also banned from owning and keeping reptiles for 10 years and each given a 100-hour community order.
New Forest Magistrates' Court heard the civil partners, who had owned the exotic animals for two years, were under the impression they were easy to maintain.
'Equal protection'
The court heard Andrew Bews-Foster had lost interest in the dragons and they were moved from the couple's study into their garage for about four months.
Their condition soon deteriorated and thinking they were dead, the couple put them into three bin bags and dumped into a hedge in Whitsbury Road, Fordingbridge, in April 2009, the hearing was told.
The pink-coloured bags were later found by a jogger who alerted police and when inspected by the RSPCA four of the five creatures were still alive.
Specialist vet David Holah, who treated the reptiles, said the state they were found in suggested "chronic malnourishment and poor husbandry".
When they were found their bodies had started to shut down due to the cold and dehydration. One of them had to be put down because it was in such a poor state.
He said the couple showed "the most contemptuous disregard for animal welfare".
Chairman of the bench Judith Maddox said: "This is a serious offence.
"It is quite obvious there was suffering caused and death to a number of animals."
Andrew Bews-Foster, 40, of Salisbury Road, Fordingbridge, and Rodney Bews-Foster, 44, now of Park Road, Fordingbridge, pleaded guilty to failing to meet the welfare needs of the reptiles, as well as causing them unnecessary suffering.
RSPCA inspector Jo Blackburn said the Bews-Fosters' actions were "unbelievable, unnecessary and cruel".
"It was one of the worst states I have come across.
"These animals deserve the same care as any mammal or any other protected animal we have and under the Animal Welfare Act they have equal protection."