Queen to name 'new QE2' cruise liner in Southampton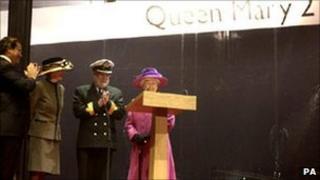 The Queen is to officially name the new £400m Queen Elizabeth cruise liner - seen as the successor to the QE2.
The Queen will attend the ceremony in Southampton on 11 October, with the ship sailing on its maiden voyage, to the Canary Islands, the next day.
The QE2 ended its life as an ocean liner in 2008 and was sold to Dubai-based property developers Nakheel.
The new ship means Cunard's fleet will again boast three Queens, along with the Queen Mary 2 and Queen Victoria.
'Special occasion'
The Queen named the QE2 on the Clyde in 1967 and was at Southampton in 2004 to name the Queen Mary 2.
She was also present in 1938 when her mother, then Queen Elizabeth, launched the first Queen Elizabeth liner, also on the Clyde.
Peter Shanks, Cunard president and managing director, said: "The naming of a Cunard Queen is a very special occasion and this will be an historic event in the true sense of the word.
"We are both honoured and proud that Her Majesty will name our new liner Queen Elizabeth."
The 90,000-tonne vessel has been built at the Fincantieri shipyard near Trieste in Italy.
Queen Elizabeth - or just QE as the ship is already being called - is one foot longer and one foot wider than the QE2. But with 16 decks, it is much taller.