Gosport hospital deaths relatives want change in law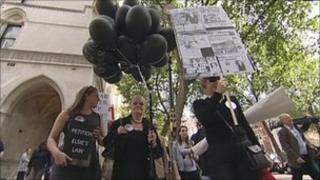 The families of patients who died at a Hampshire hospital after being given "potentially hazardous" levels of drugs are petitioning for a law change.
An inquest held last year into the deaths of 10 Gosport War Memorial Hospital patients in the 1990s found drugs to be a factor in five cases.
Dr Jane Barton prescribed the drugs and was later found guilty of misconduct.
Relatives went to Downing Street to ask that doctors are forced to consult more widely before "end of life" care.
They want more to be done to safeguard patients, who are often elderly and vulnerable.
Ann Reeves, whose mother Elsie Devine died at the hospital, said the relatives also staged a "silent march" through central London.
Doctor resigned
She said: "It's a wake-up call for this government to start talking to us."
Mrs Devine was admitted to the hospital with confusion and kidney problems, was given doses of diamorphine and Midazolam despite there being no record of her suffering pain, and then a tranquiliser.
The inquest found the use of painkillers had been inappropriate for her condition.
A General Medical Council panel found Dr Barton guilty of misconduct earlier this year but did not strike her off.
However in March, the Council for Healthcare Regulatory Excellence (CHRE) said Dr Barton should have been struck off the medical register, echoing the stance of the patients' relatives.
Dr Barton, who has since resigned, was found guilty of a series of failings in her care of 12 patients who were treated at the hospital between 1996 and 1999.
The GP had told the GMC fitness to practise panel she had had to work under "unreasonable pressure" with an "excessive and increasing burden" in caring for patients.
She was allowed to continue to practise but had 11 conditions placed upon her work, including a ban on injecting opiates for three years.