Thousands want Shanklin fire station saved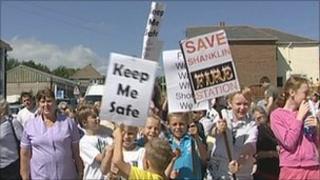 Campaigners are stepping up their fight to save a fire station on the Isle of Wight.
About three quarters of the population of Shanklin - some 5,800 people - have signed a petition against the closure.
Dozens of people turned out to present it to councillor Barry Abraham during a demonstration outside the fire station.
Isle of Wight Council, which runs the service, says cover from Sandown, about two miles away, could reach Shanklin during an incident in four minutes.
There has been a fire station in Shanklin for 124 years.
The council had planned to replace Shanklin fire station with a new building in nearby Lake, but the proposal has been put on hold due to costs.
'Bury their heads'
Former retained firefighter Steve Marsh presented the petition to Mr Abraham in five large cardboard boxes.
He said: "Well, the council have got two options: One option is they can just bury their heads in the sand.
"Or two, they're going to go back, they're going to take on board what we've said, they're going to revisit the figures, and actually get their priorities right."
Mr Abraham said two new fire stations were being built on the island.
"We're looking to make an upfront investment of £8m in capital. We are building two new fire stations on the island.
"What we had hoped to be able to do, in about three or four years time, was to build a brand new fire station at Lake."
The council said it would listen to people's concerns.