HMS Gloucester helps in £4m cocaine seizure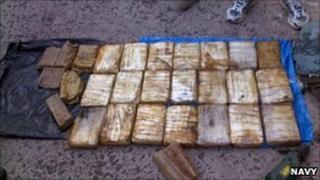 Cocaine worth about £4m was found when a Royal Navy destroyer intercepted a yacht in the mid-Atlantic.
The Portsmouth-based HMS Gloucester was on its way to the Falklands when it was diverted to help authorities on Cape Verde acting on French intelligence.
The suspect vessel was taken ashore where the drugs were found hidden in the rudder last Friday.
HMS Gloucester, a Type 42 destroyer, is on a seven-month deployment patrolling the South Atlantic.
Commander David George, commanding officer, said: "The last thing a drug smuggler wants to be seeing as the sun comes up is a Royal Navy warship bearing down on him. He can't run and he can't fight.
"HMS Gloucester provided the ideal launching pad for the Cape Verde law enforcement team to intercept these drugs.
"It's fast, has long-range detection radar, and one of the fastest helicopters in the world, the Lynx Mk 8. There was no argument.
"Thanks to close co-operation... millions of pounds worth of cocaine has been stopped from reaching our streets."