Portsmouth ferry suspended over buoy collision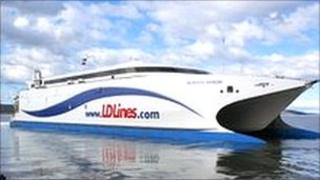 A company has suspended one of its ferry services operating between the UK and France after it struck a buoy.
LD Lines suspended its high-speed catamaran, Norman Arrow - running between Portsmouth and Le Havre, after hitting the buoy at the French port.
The vessel docked and the passengers were taken off safely on Sunday.
LD Lines said its normal ferry service continues and those with bookings would also be transferred onto other services while an investigation is carried out.