Titanic relatives to attend centenary cruise in 2012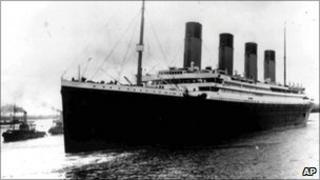 Relatives of passengers who died when the Titanic sank in 1912 are among those attending a cruise in 2012 to mark 100 years since the disaster.
The ship sank on its maiden voyage from Southampton to New York after hitting an iceberg on the night of 14 April 1912, killing more than 1,500 people.
The Balmoral cruise ship will retrace Titanic's route, leaving Southampton on 8 April 2012 for New York.
A ceremony will take place on board to mark the time the ship began to sink.
Among those attending will be author Arthur Cropley, the great-nephew of Charles Herbert Lightoller, the second officer who was also the most senior member of the crew to survive.
BBC Archive - Survivors of the Titanic - I Was There, by Commander CH Lightoller
Mr Cropley will be among those giving lectures on board, along with Philip Littlejohn, grandson of survivor Alexander James Littlejohn.
Mr Littlejohn, who has made a dive to the wreck site, said: "I'm sure my grandfather, a first class steward on Titanic, would be proud to know his story will be shared with the passengers on the Balmoral.
"It will be an emotional moment when we are over the wreck site, where I dived in 2001."
Titanic menu
Another person attending the cruise will be Jane Allen, of Devon, who said: "We booked as we wish to commemorate our relative, Thomas Pears, who died on the Titanic.
"His story has been a big part of our lives. His widow Edith survived in Lifeboat 8."
The cruise has attracted bookings from around the world, including passengers from Australia and South America.
During the crossing, they will eat food based on the dishes served on board Titanic.
Last week, a United States federal judge awarded a US exhibition company $110m for salvaging artefacts from the wreck of the Titanic.
The judge ruled that RMS Titanic Inc, which displays the artefacts in museums across the world, is entitled to their full market value.