Southampton's Titanic museum plan gets green light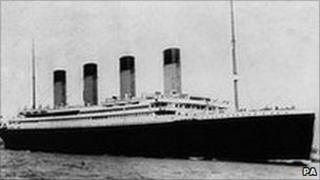 Southampton City Council says it will consider selling off assets and short-term borrowing to raise the extra £10m needed to build a £15m maritime museum.
It had planned to sell artwork to raise £5m of the total £15m cost but dropped the idea after criticism. In March, it was awarded a £4.6m lottery grant.
The museum is due to open in 2012 for the 100th anniversary of the Titanic's ill-fated voyage from the city.
The plan for the disused magistrates' court was approved on Monday.
A Grade II listed building will also house the Titanic collection when it is transformed into the Southampton Sea City Museum.
Situated in the city's "cultural quarter", it will house two permanent galleries.
Conflict of interest
Councillor John Hannides, Southampton's cabinet member for leisure, culture and heritage, told BBC News: "The city council will have a look right across its portfolio of assets to see what can be used to support the project.
"There are no plans to raise council tax or anything of that nature.
"This is about raising the funds from capital receipts."
A spokesman for the council said £5m would be fund-raised and £5m would be from selling off assets.
The city council was criticised by the Charity Commission over its plan to sell off art works by French sculptor Auguste Rodin and British painter Sir Alfred Munnings.
The commission noted the council's conflict of interest as trustees of the work and the decision-making authority.
The Southampton art collection is valued at £180m.