Portsmouth-based HMS Daring ready for action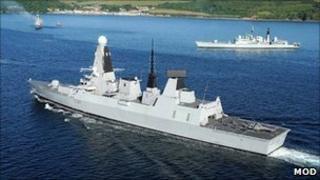 Portsmouth-based HMS Daring, which is said to be the most advanced warship in the world, is now ready for action.
The Ministry of Defence (MoD) said the Type 45 Class air defence destroyer could officially start to play a "key role" in operations around the world.
Since arriving at its home base last year, the ship has undertaken months of intensive sea trials.
Daring will undergo further operational training in preparation for its first operational deployment next year.
The 7,500-tonne vessel is longer than 16 double decker buses and taller than an electricity pylon.
'Easy to fight'
When Daring sailed into Portsmouth in January last year, hundreds of people turned out to watch including workers from the city who helped to develop parts.
It has the ability to operate a range of helicopters from its flight deck and embark up to 60 troops in addition to its own ship's company, meaning it is a versatile asset that can support land forces and carry out humanitarian missions.
Peter Luff, minister for defence equipment support and technology, said he had "no doubt" that Daring would provide sterling service throughout its life.
"The first in service date for the Type 45 class is a significant achievement for both the programme and the Royal Navy," he said.
"It represents the first step towards delivering the fleet of the future.
"Along with her five sister ships, Daring will set new standards in air defence and will demonstrate her wider ability across the future challenges faced by the armed forces."
Captain Paddy McAlpine, the ship's commanding officer, added: "Her technology and design make her an easy ship to fight with and my ability to control the airspace around the task force is unsurpassed."