Cause of Watercress Line steam railway blaze not known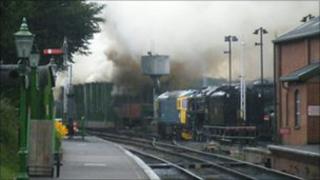 The owners of a steam railway attraction have been counting the cost of a fire which destroyed two carriages and a tender for a steam locomotive.
Hampshire's Watercress Line has been running steam trains through 10 miles (16km) of countryside between Alresford and Alton stations since 1985.
The fire began in a workshop opened in February with a £300,000 lottery grant.
A shuttle service will run between Ropley and Alresford. The cause of the blaze is not yet known.
Assessing the damage
Tim Beere, from the Watercress Line, told BBC News: "Thankfully no-one was hurt.
"We have obviously lost a number of vehicles in the fire.
"We are waiting for the fire inspector to come and have a look at the structure."
A diesel engine was also inside the workshop used for restoring carriages and rolling stock.
Hampshire Fire and Rescue Service said 50% of the building was destroyed.
The area was cordoned off because of the risk of explosion on Monday.
Two workshops were built with the help of lottery funding as part of a £1.1m project that also saw two new apprentices taken on.
The line, also known as the Mid-Hants Railway, was originally part of British Railways until it closed in 1973, and is supported by more than 450 volunteers.