Portsmouth student became bus driver to fund university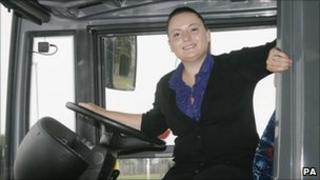 A student has told how she became a bus driver to pay her way through university.
Louisa Burton would drive students home from pubs and clubs in her night job in order to cover her tuition fees and living costs.
The 22-year-old is set to graduate from Portsmouth University on Wednesday after completing her studies in accounting and business.
Miss Burton, of Inverness, began driving buses when she was 18.
She started driving as a summer job after spotting an advert after finishing school and became one of the youngest bus drivers in Scotland.
"I really enjoyed the bus driving and decided that it'd be silly not to continue with it once I'd started university," she said.
Miss Burton travelled to Hampshire two weeks before her course was due to start so she could learn the local bus routes.
She worked five shifts a week including two "Guildhall shifts", where she worked from midnight until 0400 BST collecting fellow students from local pubs and nightclubs.
"The Guildhall shift was always good fun and as you can imagine everyone was usually in quite high spirits but I had two bouncers on the bus and never had any trouble," she added.
Miss Burton now works as a trainee accountant in Inverness and is not planning to continue her career as a bus driver.
"I'll miss the bus driving though, it was a fantastic career to have whilst studying."