Southampton Spitfire memorial competition launched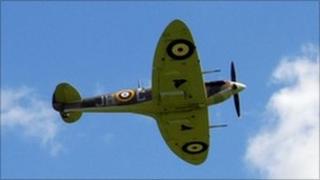 A competition to design a new Spitfire memorial in Southampton, the city where the fighter plane was designed and first built, has been launched.
The 180ft (55m) replica - more than three times the size of the actual plane - will stand at Trafalgar dock overlooking Southampton waterfront.
The Spitfire Tribute Foundation wants to raise £2m to build the tribute.
People are being invited to submit a design for the monument and the top prize is a flight in a Spitfire.
The monument is set to be built in 2011, the 75th anniversary of its 1936 maiden flight.
RJ Mitchell's aircraft played a unique role in defending the freedom of the skies during the Battle of Britain.
Competition entries should be colour illustrations on an A3 sheet of paper and sent to: Spitfire Tribute Monument Open Competition, Albert Road South, Southampton. SO14 3FR. Deadline for entries is 9 August 2010.