Rabbits disrupt £1m science project in Stockbridge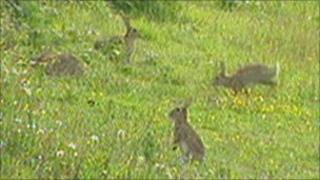 A project which aims to map the history of the universe is being disrupted - by rabbits chewing through cables.
They are gnawing at wires which secure radio antennae collecting signals from space at the Chilbolton Observatory near Stockbridge, Hampshire.
Some of the 96 antennae are being toppled after the rabbits have cut the cables - leading to problems with the data being collected.
A large fence is now being built to keep the rabbits out.
The £1m project is creating a network of 5,000 antennae across Europe.
Professor Bob Nichol, from the Institute of Cosmology and Gravitation (ICG), said the 4ft 6in (1.3m) antennae will operate like "a huge telescope" across Europe.
He told BBC News: "If [the rabbits] gnaw through the wire and an antenna falls down, the data from the station will change characteristics.
"So if there are a lot of rabbit attacks and they are eating through the wires all the time then we are spending lots of time figuring out why our data has changed."
The project, which has included contributions from scientists at universities in Portsmouth, Southampton and Oxford, will combine the signals received from the antennae to make images of the sky, using a "super-computer" based in the Netherlands, which is where the project is based.