Plaque honours Gloucester couple who gave Jewish boys refuge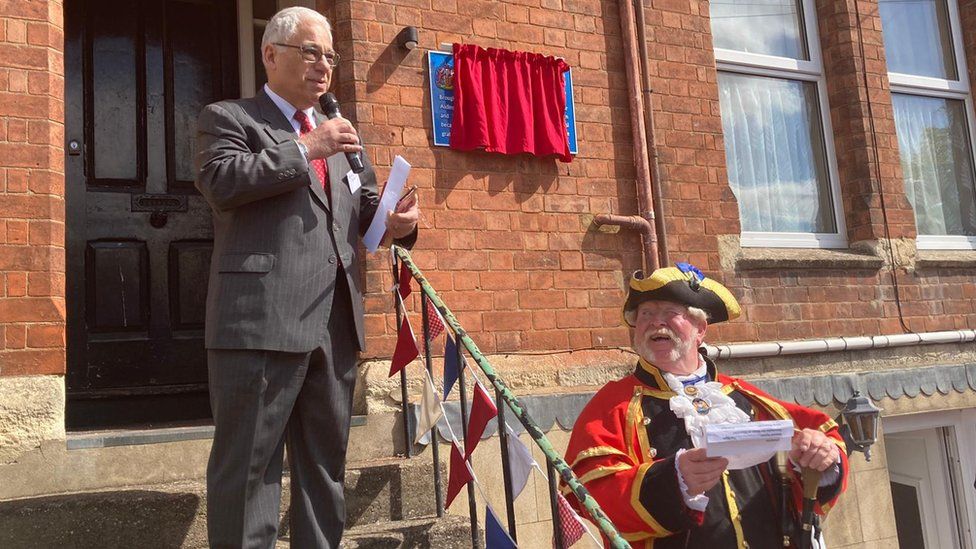 A plaque has been unveiled in tribute to a family who took in 10 Jewish boys fleeing the Nazis.
Thousands of children escaped to the UK on what was known as the Kindertransport during the 1930s as Adolf Hitler rose in influence.
Paul and Edith Arnstein cared for the boys at their home in Gloucester.
Michael Zorek - whose father Werner was among the group cared for by the couple - said their actions "meant a great deal" and he felt others should know.
More than 80 years after Mr and Mrs Arnstein's selfless actions, Mr Zorek flew over from America - where his father emigrated to after being brought to the city by the Gloucester Association for Aiding Refugees - to attend the ceremony.
He marked World Refugee Day on Monday by unveiling a plaque to the couple - who cared for the boys between 1939 and 1941 at their home in Alexandra Road.
Speaking to BBC Points West, he said: "I wanted people to be aware [that] this was something which happened in their backyard.
"And it was something that was happening over and over again.
"And so the idea that Gloucester was as welcoming as it was to these 10 boys meant a great deal to me."
Tim Arnstein - the couple's grandson - attended the event and said he was "thrilled to be able to represent" his family.
He added: "It's incredibly special to be recognised as part of something which is so, in my view, monumental."
Schools in the city have also begun learning about Kindertransport and the role that the Arnsteins - who were themselves refugees - played in it.
Alyson Meredith - a teacher at Kingsholm Primary School - said: "I think it is so important they know the history of where they live and they know what is happened in their community.
"History is such a key part of what we do within the primary school, secondary school and as people go on."
Adele Owen - Gloucestershire Action for Refugees and Asylum Seekers - said: "It makes it really important to be able to say refugees are important and refugees matter and that they go on to contribute and that they're part of our community.
"It puts them in the heart of our city. "