Bereaved mum takes road-safety campaign on the road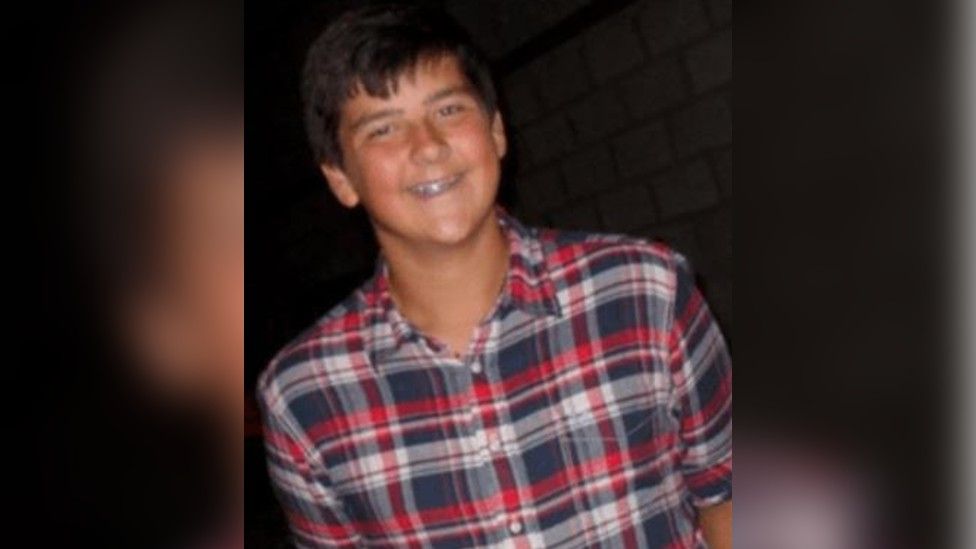 A mother whose son died in a car crash has shared his story with students at his former university in the hope it can prevent future tragedies.
Oliver Pain, 18, was in his second year at Hartpury University when he crashed the car he was driving minutes from his home in North Nibley, Stroud, in 2012.
He died along with his friend, Harry Smith, 17, who was a passenger.
Oliver's mother Becky Pain has been presenting the 'What if?' roadshow to students in Gloucestershire.
Ms Pain said she became one of the presenters because she wanted "to give something back for all the support" she had received when she lost Oliver.
She said the family would never know the full story of her son's accident.
"This is one of the reasons why I talk about it.
"A lot of accidents with young drivers are thought to be associated with alcohol, or speed, or drugs, or [being] on their mobile phone.
"In this instance with Oliver, not one of those was an issue," she said.
"Even though he wasn't driving excessively, as I say when I give my presentations, he was driving too fast for the road conditions. But that comes down to experience."
Produced by the Office of the Police and Crime Commissioner and Gloucestershire Fire and Rescue Service, What if? features the film Invincible Minds.
It tells the story of how two students survived a catastrophic car crash that almost killed them using their first-hand accounts.
The film also includes professionals involved in the aftermath of fatal accidents.
Ms Pain said talking about her experience was part of the grieving process and it had helped her to understand and process what had happened to her son.
"What would Oliver make of it? He would probably roll his eyes and say 'not again mum' but I think he would be proud," she said.
An estimated 40,000 young people aged 16-19 from schools and colleges in Gloucestershire have seen the programme since it began.
Ms Pain said the reaction from audiences had been 100% positive.
"I've had students come up to me, thanking me.
"I've had students come up to me saying can they give me a hug because they've been affected by the impact of the story."
Gloucestershire's Police and Crime Commissioner Chris Nelson said every young driver would benefit from seeing the roadshow.
"Hearing directly from people with first-hand experience of the devastation caused by a road traffic accident is the most powerful way of raising awareness of the vulnerability of new and novice driver," he added.