Fred West police search Gloucester cafe for Mary Bastholm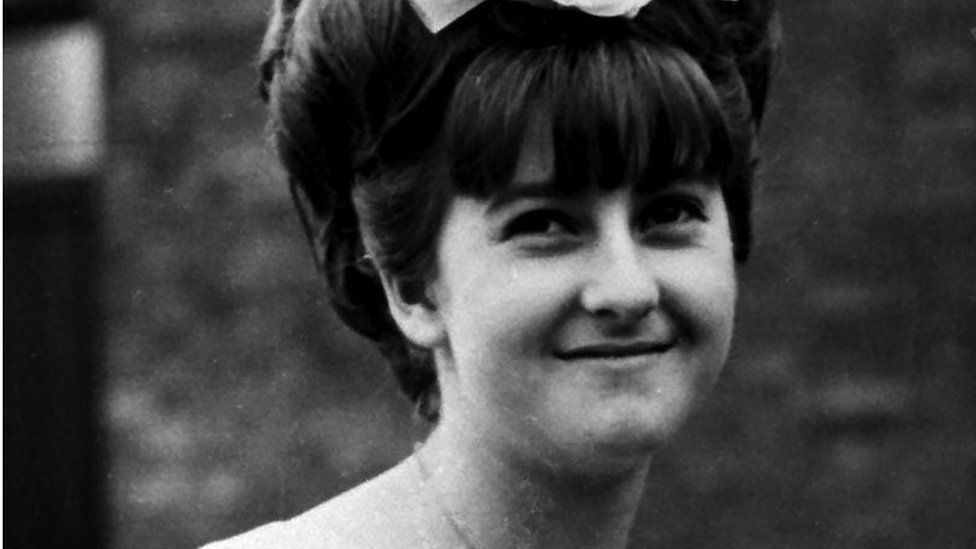 Police are continuing their search for a body at a cafe in Gloucester linked to a girl feared to have been murdered by serial killer Fred West.
Mary Bastholm, 15, who worked at the cafe, went missing in the city on 6 January 1968. She has never been found.
On Friday, documentary-makers called officers to The Clean Plate, where West was a regular customer in the 1960s.
His wife Rose's former lawyer Leo Goatley said it "wouldn't surprise me if a body was found there".
"Fred West was known to frequent the cafe and Anne McFall - his first victim - worked there and Mary Bastholm worked there," he said.
"I've spoken to witnesses who have said that they may have seen Rose West there."
He said that when he asked her about Ms Bastholm, her comment was: "Well that was before my time".
But, he added that he was "quite certain that Rose West knows an awful lot more about many of these atrocious acts".
The film crew told police last week they had found evidence that a body could be buried within the property.
In 1994, West admitted murdering his daughter Heather. The confession came as police began to search 25 Cromwell Street, where they found the bodies of nine girls and young women.
He and his wife Rose were jointly charged with nine murders and he was charged with a further three.
Chris Ford, Ms Bastholm's friend, said it was thought at first that the teenager had "just left home" and run away.
"But she [Mary's mother] said she was worried about her because she said 'all she has got on her was what she was stood up in'," Ms Ford said.
"She said to me 'I'm going to always leave the light on in the hall for Mary to come, home to'."
City journalist John Hawkins said "it had been speculated on for many years that police should look at that cafe".
Mr Hawkins started working in the city as a 16-year-old "cub reporter" a few months before Ms Bastholm disappeared.
He said he was "absolutely amazed" to hear that police were searching the cafe after being asked to previously and refusing each time.
"Of course it [Mary's disappearance] turned out to be perhaps the biggest mystery story I was ever involved in and certainly one of the biggest stories Gloucester's ever had," he said.
"Not until the early 1990s, when the West case came to light, did we start to put two and two together.
"For those who stretch back a bit and remember those times in the 90s, they might be thinking, 'suddenly, we've got this all going on again'."
A petition was set up in 2012 calling for a fresh investigation into Miss Bastholm's disappearance, including searches at the cafe, but it was rejected by then Chief Constable of Gloucestershire Police Tony Melville.
Gloucestershire Police issued a statement on Wednesday reiterating that in the past it had been deemed there was insufficient evidence that Ms Bastholm was buried there, but that Mr Melville had also said that the situation would be reviewed if fresh evidence came to light.
"Potential new evidence has come to light recently and we are currently carrying out extensive enquiries as a result," a spokesperson said.
"The constabulary's current focus is the potential evidence discovered...last week and that is where our resources are being directed.
"We plan to continue forensic assessments until Monday, before a more considered decision around the extent of excavation can be made."
West's biographer Geoffrey Wansell said: "[West] liked very young women, he liked naive ones. It would be fair to say Mary was naive, vulnerable, she was only 15, and she would have been lulled into a false sense of security by West.
"He was terrifically good at making you feel at home, he would have charmed the birds off the trees and he would charmed Mary Bastholm."
Mr Wansell said although West never admitted to police that he had killed her, he allegedly confessed to his solicitor, who was then sacked.
He said West belongs "amongst the pantheon of British evil" and had "stained humanity in a way that is unforgivable and should never be forgotten".
Ms Bastholm's family are aware of recent developments and have asked for privacy.
West took his own life in prison while awaiting a trial in 1995.
Related Internet Links
The BBC is not responsible for the content of external sites.