Bristol motorway journey for huge Boeing jet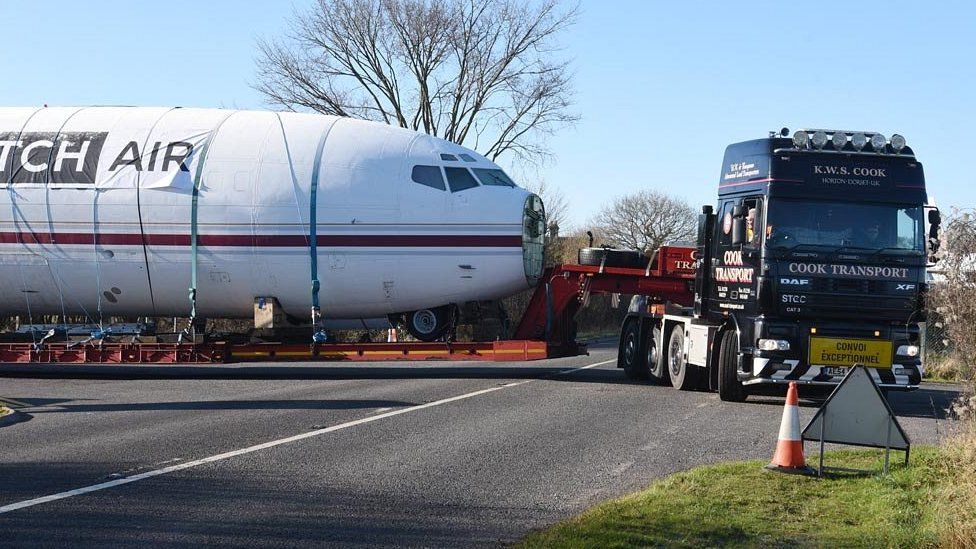 A massive private jet has taken to the motorway rather than skies for its journey to a new home in Bristol.
The Boeing 727 was loaded on to a lorry at Cotswold Airport, Gloucestershire, on Saturday for its unusual drive down the M5, M4 and M32.
The plane - 40m (131ft) in length - is being "up-cycled" to provide office space for a media and tech firm.
Company owner Johnny Palmer said: "It was a £50m-plus aircraft.
"But the general state of airworthiness meant we got a slight discount from that price."
The decommissioned jet left the airport at about 09:00 GMT.
Measuring 5m (16ft) wide and 4m (13ft) high, it had to straddle two lanes as it crept down the motorway at 20mph behind a police escort.
Once at its new base in Brislington, the craft is set to be lifted with a 60m (200ft) crane on to shipping containers "painted to look like clouds" so it "appears as though it is flying".
Mr Palmer, said his company, Pytch, "needed more space" and the plane would be the "centrepiece of the hub", adding: "The aircraft was in the right place at the right time to be up-cycled.
"So rather than do resource and carbon-intensive construction, we decided to re-purpose the icon of unsustainable hyper-consumption - the airliner private jet."
The plane originally flew in 1968 with Japan Airlines as a passenger airliner but some time in the 1970s it was converted into a VIP private aircraft.
It took its final flight to Filton Airfield in 2012, before being transported to Gloucestershire to be salvaged.
"This is by far the most expensive office space that has ever been installed in Bristol," said Mr Palmer.
"Or at least it would if the aircraft could fly."
Related Internet Links
The BBC is not responsible for the content of external sites.