Coalpit Heath woman sent letter calling garden 'disgrace'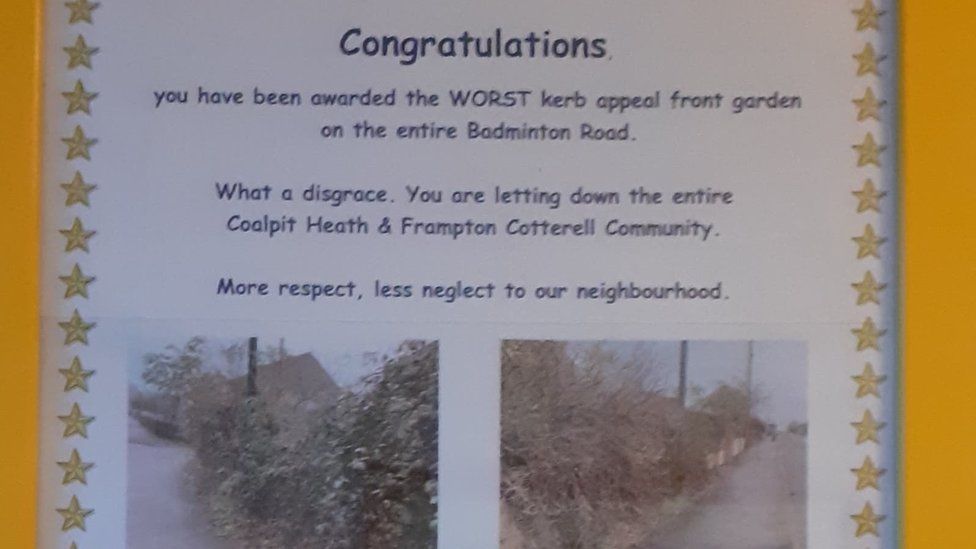 A woman sent an anonymous letter describing her garden as a "disgrace" has framed it, but asked her neighbours to be more understanding.
Kim Leonard, from Coalpit Heath, South Gloucestershire, said her garden had been tidied up the day before the letter arrived.
The typed message said her garden was "embarrassing" and that she was "letting down her community".
Ms Leonard said she had taken the "vindictive" letter "with humour".
The letter's author sent it by first-class post addressed to Ms Leonard's house.
"If you get over the pettiness of it - someone has colour printed it, put stars on it and paid for a first-class stamp - they could have knocked on the door and told us about it," she said.
"It's obviously someone who is quite angry.
"We would have been right out there and trimmed it if they asked in person," added Ms Leonard.
The letter has been framed and hung in Ms Leonard's downstairs toilet.
"What else would I do?" she said.
"We're meant to be nice to our neighbours and we're shocked someone would go to that effort to be that petty.
"People don't know your circumstances - what if we were disabled and couldn't do it?"