Campaigners 'won't give up' fight to reopen Forest pub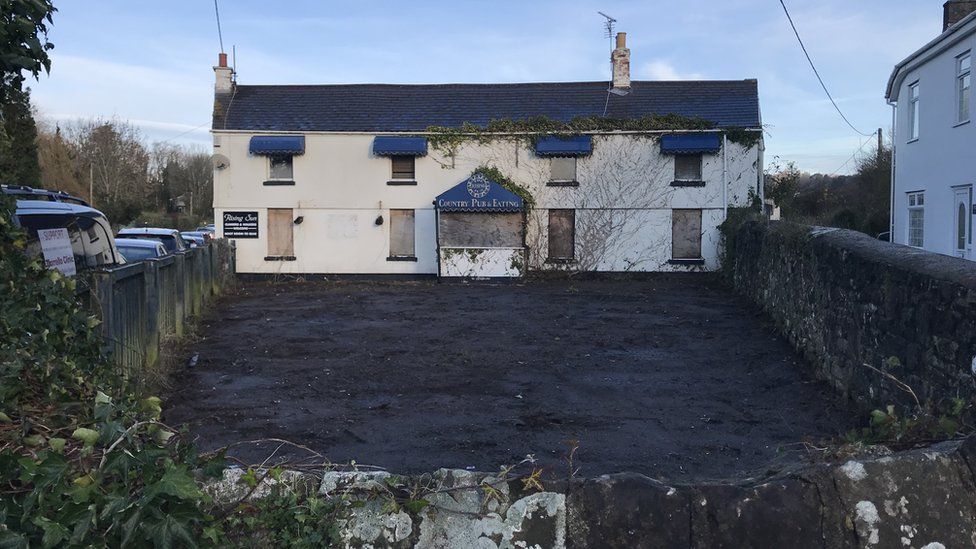 Campaigners have pledged to continue a fight to bring a derelict pub back into use, despite a council withdrawing a compulsory purchase order (CPO).
The Rising Sun in Woodcroft, in the Forest of Dean, was shut in 2011 and sold to a housing developer.
Forest of Dean District Council refused planning permission, and an appeal was dismissed by the planning inspectorate last month.
Worthy Developments said it will look at renovating the building "for reuse".
Chair of the Save Our Sun campaign group, Michelle Hayes, said it was "frustrating" not to have the pub open for the community.
'Community needs a heart'
"We are going to continue, we are not going to give up. There's a lot of feeling here.
"Every community needs a heart, somewhere to meet. It's not just about somewhere to eat and drink.
"It's somewhere for the community to get to know each other."
She added that "a CPO in the future has not been ruled out if the owner fails to do anything to the site".
Revised plans were then submitted, and the CPO subsequently withdrawn.
The revised plans were also refused, and the developer appealed against the decision.
The planning inspectorate dismissed that appeal last month, and said the site must remain a community facility.
Worthy Developments said it believed its plans "would have made the premises more viable and sustainable for a combined use".
"Unfortunately the inspector did not concur with this so we will now gather out thoughts and consider how the building could be renovated for reuse while being commercially viable."
Related Internet Links
The BBC is not responsible for the content of external sites.