Gloucester's biggest drug dealing gang jailed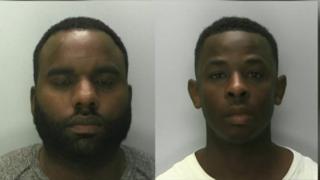 One of Gloucester's "biggest drug dealers" was among 11 men jailed for bringing hundreds of thousands of pounds worth of cocaine into the city.
Leader of the 11-man organised crime gang Andrew Venna, 34, was jailed for 12 years at Bristol Crown Court for selling drugs brought in from London.
Venna and his gang thought themselves "untouchable by the law", Gloucestershire Police said.
All 11 men pleaded guilty to charges relating to conspiracy to supply drugs.
Police began an investigation early last year, after violence in 2017 between Venna's gang and others in Gloucestershire.
Detectives said it took six months to gather enough evidence to arrest and charge gang members.
They said Venna would order cocaine from a supplier in London.
Couriers Granit Nanushi and Orsid Cela, both from London, would then bring the drugs to Gloucester and meet Matthew Cornwall at various pre-arranged drop-off points in the city.
The drugs were then taken to addict Edward Bell, who police said would "test the quality of drugs prior to payment being made".
Cornwall would pay the couriers in cash and the drugs would then be sold to other gang members who would deal them to users in Stroud and Gloucester.
Det Insp Ian Fletcher said Venna was "one of the biggest drug dealers in Gloucester".
"Andrew Venna thought he was above the law. He thought he was operating at such a level that he would never get caught by the police," he said.
"He thought he was untouchable. He wasn't."
Judge James Patrick commended the police investigation, adding: "I don't have to highlight the blight and dangers of cocaine on society - it ruins people's lives, health, and those close to them."
The gang members sentenced were:
Matthew Cornwall, 34, of Discovery Road, Gloucester - jailed for 10 years
Andrew Venna, 34, of Partridge Close, Gloucester - jailed for 12 years and nine months
Granit Nanushi, 39, from London - jailed for eight years
Orsid Cela, 28, from London - jailed for three years
James Dawkins, 39, of Butterrow Hill, Stroud - jailed for six years nine months
Aaron Baker, 31, of The Bridle, Stroud - jailed for years and three months
Daniel Payne, 22, of Moseley Crescent, Stroud - jailed for three years six months
Edward Bell, 44, of Badminton Road, Gloucester - jailed for three years
Ryan Reese, 24, of Finlay Road, Gloucester - jailed for 21 months
Paul Reeves, 27, of Lodgemore Lane, Stroud - jailed for four years
Leroy Slater, 39, of Wellington Street, Gloucester - jailed for nine years and two months