Parents 'accused of exaggerating child illnesses'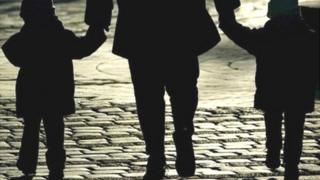 Parents who say they have been accused of fabricating their disabled children's illnesses are being asked to "discuss concerns directly".
The Parent and Carer Alliance said Gloucestershire County Council had accused parents of "making things up" and "exaggerating" children's needs.
The council denied any wrongdoing and said its number one priority was to keep children safe.
Its "young people" councillor said he was keen to talk directly to parents.
The BBC has spoken to 10 families from Gloucestershire who say they have been accused of fabricating their children's illnesses.
All of the families get help from the council but say the problems have arisen when they have asked for additional financial support.
The group, which has nearly 600 members, said it believed the council was using child protection concerns to delay paying for expensive care, which the authority strongly denies.
'Mistrust of professionals'
Zoe Elliott, co-founder of the Parent and Carer Alliance, said it was a funding issue and "perhaps [a way] of bullying families into silence and to not speaking out".
"It's a form of abuse in itself, this," she said. "I would describe it as systematic abuse. It's very dangerous. It's causing parent carers to become mistrustful of professionals.
One mother, whose son has cerebral palsy, told the BBC his disability was "obvious" and she wanted help from the council to get him overnight care.
"We kept pushing and pushing but social services started questioning us," she said.
"It was aggressive. I was suddenly bombarded with accusations. That we weren't giving him medication. Neglecting him."
She said she was "petrified, because they have that power - they can take your child away".
"We're not asking for lots of money. We are asking for help. They focus so much on finance and process and forget about the families," she said.
'Soul-destroying'
Another parent said she was accused of "making her daughter's condition up", and "the more I asked for help, the more they blamed me".
"It's soul-destroying... to get accused of trying to kill my child.
"I still feel so ashamed... even though I did nothing wrong."
Councillor Richard Boyles, council's cabinet member for young people, said the council had invested heavily in children's services over the past few years to make sure it could meet the needs of children in the county.
He said that the council must look into any potential child protection concerns but a child's care needs were reviewed, and if their needs had changed, so did their care.
He said: "As we don't have details of the cases highlighted, I would ask the parents involved to get in touch, so we can discuss their concerns with them directly.
"I want to reassure parents that care would absolutely never be removed because they had raised a concern."
What is fabricated or induced illness?
Fabricated or induced illness (FII) is a rare form of child abuse. It occurs when a parent or carer, usually the child's biological mother, exaggerates or deliberately causes symptoms of illness in the child.