Man disembowelled in Gloucester drug knife attack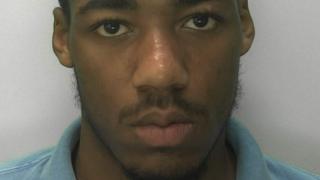 A man was "disembowelled" when he was knifed during a row over drug-running, a court heard.
Aaron Huntley was one of two men stabbed by Rumarn Douse in the Gloucester attack, the city's crown court was told.
The "long knife" was plunged a "number of times" into Mr Huntley's body, forcing him to have his spleen removed, prosecutor Don Tait said.
Douse, 22, of Hebden Grove, Birmingham, was jailed for seven years.
The row started when Mr Huntley - who was left needing to use a colostomy bag - and accomplice Darren Allen-Jones robbed another man, Paul Payne, of his class A drugs.
Payne, 43, of London Road, Gloucester, was a runner for Douse and admitted drug charges and affray for supporting Douse in the attack.
Douse had been offering drugs and a phone seized from him showed 90 text messages advertising the items he had for sale.
'Foolhardy' plan
Police tracked the phone to Gloucester and caught Douse on CCTV using it, before his eventual arrest in Birmingham.
On the night of the attack, Payne was robbed after being sent out to distribute the drugs.
Mr Tait described the plan that led to the confrontation, as "foolhardy in the extreme".
"Threats were made, knives were produced, at least one," he said.
"Douse then chased Allen-Jones and stabbed him twice.
"He then turned his attentions to Huntley, who received three serious wounds. One particular wound effectively disembowelled him."
Douse admitted assaulting two men and causing them grievous bodily harm, as well as offering to supply class A drugs and the production of cannabis.
Judge Ian Lawrie QC said Douse had caused "extensive and serious" injuries and the attack involved "terrible violence".