Almost 100 University of Gloucestershire staff to lose jobs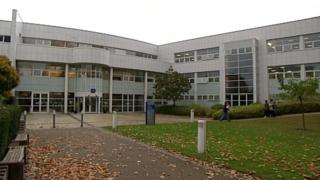 Almost 100 members of staff at the University of Gloucestershire are set to lose their jobs to save money.
Union Unison said it had "been formally notified" by the university that "a large portion of the savings will come from redundancies".
The university said it was due to a fall in the number of 18-year-olds, and rising costs, including what it needed to spend on staff pensions.
It is understood to involve 92 jobs going among academic and support staff.
A University of Gloucestershire spokesman said the "operating environment for all universities is challenging" and its "costs are rising faster than our income".
He said: "So as any business would, we are acting now in good time to reduce our costs in order to ensure that the university can continue to flourish for the long-term."
Lower income
The news comes a few months after a new School of Business and Technology, part of a £20m development, opened on the Oxstalls campus at the start of the academic year.
Unison said it had been "aware for some time that the university is looking to make savings as a result of lower income generation and heavy investment into the university estate".
It said: "We have been in talks with the university over the last few months about what those savings will look like."
Anne O'Sullivan, from the University and College Union (UCU) said: "We are currently seeking more information about the university about their proposed job cuts, and will strongly oppose any compulsory redundancies.
"Cutting valuable expertise is not the way to combat falling student numbers, and investing in staff should be a top priority."