Forest of Dean upset over trapped deer fencing deaths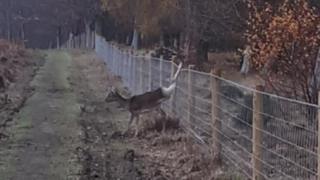 Deer are dying after getting trapped in fencing in the Forest of Dean, erected as part of conservation efforts.
Local residents say the deer's hind legs get stuck when trying to jump the barbed wire fencing at the Foresters' Forest near Coleford.
Resident Jason Burford said: "I saw a deer stuck there, crying and just wedged in. I've seen two in a week, something needs doing."
Gloucestershire Wildlife Trust says it will adjust the fencing design.
'Bars of wood'
Adam Taylor from the trust said: "The fencing has been put in for conservation grazing so we bring in animals like ponies, cattle and sometimes sheep to graze areas of grassland and heathland.
"This makes it more suitable for a whole range of species which otherwise wouldn't exist in the forest."
The fencing was put in at Edgehills Bog, Wigpool in 2016 and more fencing was placed at Woorgreens in August, where deer have been spotted.
In Mr Burford's case, the trapped deer was put down by a Forestry Commission ranger.
"I phoned them and thought they were bringing cutters, but no, they came and shot it.
"If I had cutters I would have cut the wire and let them go but whether that is right or wrong I don't know, the deer could have been no good on three legs," added Mr Burford.
The trust said that it was trying to return to more traditional and sustainable ways of managing its bracken, using ponies and English longhorn cattle to graze areas rather than using machinery.
To do that areas had had to be fenced off, containing the animals.
Mr Taylor said the square net fencing which has barbed wire is now being adjusted so deer can't get their feet trapped.
"We are devastated to see the pictures and really appreciate people sending them in.
"Where deer frequently jump over the fence - we're putting in long bars of wood to stop the deer catching their legs in the netting or the wire at the top."