Rare English Tyndale Bible sells for £37,500 at auction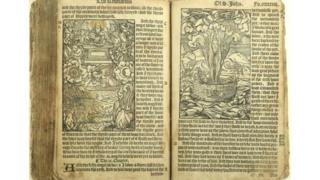 One of the first Bibles printed in English has sold at auction for £37,500.
The Tyndale Bible was the first to be translated directly from Hebrew and Greek by William Tyndale.
The linguist, from Gloucestershire, translated it in the 1500s and it was the basis of all English Bibles until after World War Two.
It sold for more than four times its pre-sale estimate of £8,000 and went to a private collector.
The rare bible was Tyndale's final revision and "shaped the grammar and vocabulary of the English language", head of Chiswick Auctions' Book department Clive Moss said.
Tyndale was ordained in 1521 and served as a chaplain in Gloucestershire.
He believed the Bible should determine the practise and doctrine of the Church and that people should be able to read it in their own language.
In 2013, Melvyn Bragg explored the story of William Tyndale in a BBC Two documentary titled "The most dangerous man in Tudor England".