Illegal Lydney puppy seller Leigh Hancock jailed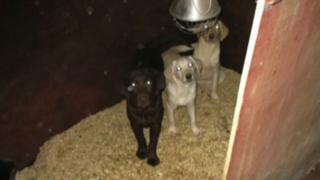 A man who pleaded guilty to illegally selling puppies and laundering the proceeds of his crimes has been jailed.
Leigh Hancock, formerly of Rodley Road, Lydney in Gloucestershire, placed more than 60 adverts for the animals online between July 2016 and March 2017.
Gloucester Crown Court heard there was a "conveyor belt of puppies" coming from his home.
Hancock was sentenced to nine months in prison for attempting to conceal more than £23,000 from the authorities.
He was also fined £1,800 for the sale of the puppies.
In the adverts he placed, Hancock claimed the dogs were from accidental litters and brought up in a family home.
Trading Standard officers from Gloucestershire County Council found about 20 adult golden retrievers and labradors kennelled at the rear of the property.
There were also litters of puppies in the back garden in an adapted shed. There is no suggestion the dogs were mistreated.
More than £5,000 in cash found hidden at the property was also seized.