March remembers Cheltenham's fallen WW1 soldiers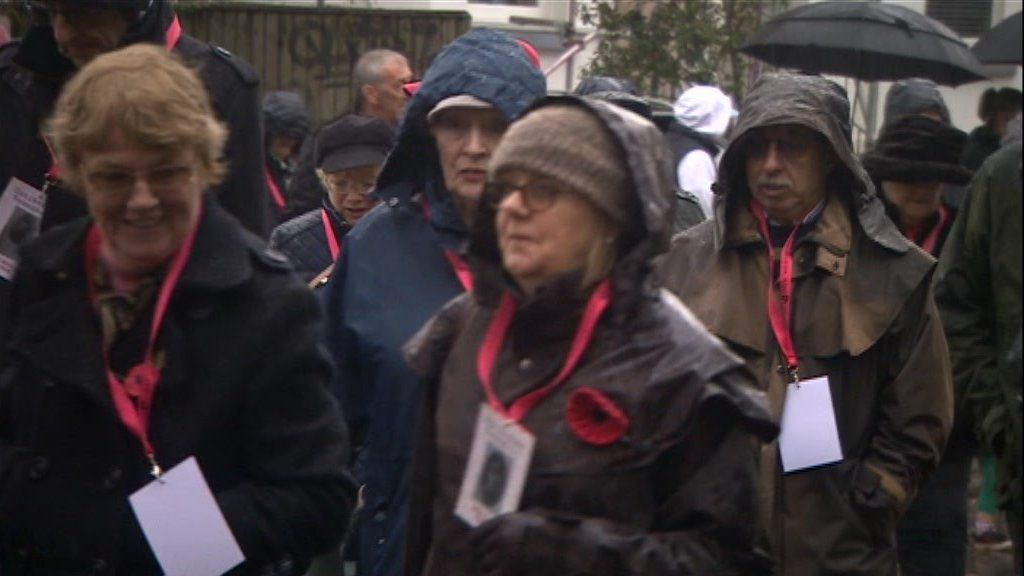 Some 1,200 people braved the torrential rain to remember the sacrifice of Cheltenham's soldiers in World War One.
Each person taking part had a lanyard bearing the name and photograph of a soldier who died in the conflict.
Organiser Flo Clucas said the photos were a "silent tribute" to remember each serviceman as an individual.
On Sunday the annual Remembrance Service takes place and a special WW1 projection will light up the Municipal Offices in the early evening.
One of those taking part in the march was Roger Beacham whose great uncle Edward Vick fought and died in World War One.
He served with 10th Battalion, Gloucestershire Regiment, composed mainly of men from Cheltenham.
"He was sent to France in 1915 and in 1916 when he was a corporal he and three other men dug out two officers and three men who had been buried alive by a German shell.
"They were working under the continuous German barrage and he was actually awarded the distinguished conduct medal, which, at that time, was second only for the ranks, to the Victoria Cross," said Mr Beacham.
He added that his great uncle rose through the ranks to become a second lieutenant but was killed in action 10 months later.
"I'm proud of him, but he never had a life, he was 28," Mr Beacham said.
The one-mile walk started at Sandford Park and terminated at Montpellier Gardens and was followed by a short service.
The Armistice 100 years on
Long read: The forgotten female soldier on the forgotten frontline
Video: War footage brought alive in colour
Interactive: What would you have done between 1914 and 1918?