Inadequate Gloucestershire child services progress 'not consistent'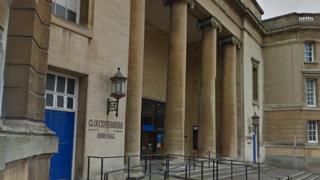 Child protection procedures at an "inadequate" children's services department are "not always followed", Ofsted inspectors have found.
During an inspection visit the watchdog found Gloucestershire County Council had made improvements in some areas, but said this was "not consistent" and further work was required.
Children's services at the authority were rated inadequate in March 2017.
The council said it "wasn't complacent" but had "certainly turned a corner".
Inspectors visited on 2 and 3 October and said they had "seen some improvements in the timeliness of responses to children in need or in need of protection".
But they found: "Visits to children where there are safeguarding concerns are not consistently timely and, as a result, some children remain in situations of unassessed risk for too long.
"Child protection processes are not always followed where there are clear disclosures of abuse, and this is particularly the case for older children."
Inspectors said "considerable progress" had been made in "establishing an environment in which good social work practice may flourish" with most social workers having "manageable caseloads".
But Ofsted also noted that "the absence of a stable, permanent workforce" meant "too many children experience frequent changes in their social worker".