Tiffany tiff: Beautician threatened with legal action by Tiffany & Co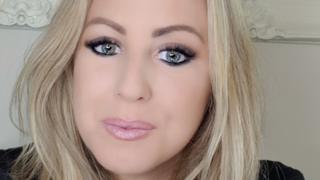 A beautician called Tiffany is being threatened with legal action by the top jewellery firm of the same name.
A trademark application for the name "Cotswold Lashes by Tiffany" is being opposed by lawyers for Tiffany & Co.
The jewellery chain, which owns trademark registrations Tiffany and Tiffany & Co worldwide, claims the name would be "likely to cause confusion".
Tiffany Parmar, from Gloucester, said she was fighting for the right to be able to "use my own name".
Ms Parmar, who is a professional eyelash extension specialist, applied to trademark her company name in April.
At the end of August a notice of "threatened opposition" was filed.
In correspondence sent to Ms Parmar's legal representative last week, the firm's lawyers claimed the name was "highly similar" to its client's and could bring the brand "into disrepute".
It asserts that Cotswold Lashes by Tiffany would be "likely to cause confusion" with people assuming Tiffany & Co were "behind the products and services".
It added that unless Ms Parmar withdrew the application by Monday it would take "any additional steps it considers necessary to protect its rights".
Despite the threat of legal action, Ms Parmar said she would continue with her application.
You might also be interested in:
"I'm fighting it because otherwise I'm not going to be able to use my own name," she said.
"They were on the trademark report we initially did but we didn't foresee it being a problem because I didn't feel I'd be a threat for them," she said.
"They're just bullying me out of it because they know I don't have the financial backing to pay for the costs.
"I just can't believe that a big multi-billion dollar company is bothered about little old Tiffany in Gloucestershire."
Tiffany & Co has been approached for comment and has yet to respond.
Tiffany v Tiffany
The jewellery giant was first founded in New York in 1853 by namesake Charles Lewis Tiffany and John B Young
It sells many high-end items including £265 ($350) gold straws and £1,135 ($1,500) gold paper clips
It has net sales of more than $1bn (£757m) a year
Tiffany Parmar, who describes herself as a "master lash artist", runs her company from her home studio
She says she specialises in "semi-permanent eyelash extensions" and works in an industry she "adores"
Her eyelash treatments typically cost about £15