Cheltenham Crematorium set to stop taking new bookings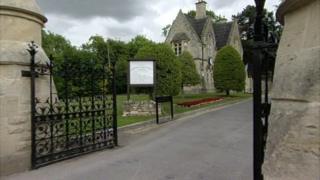 An "increasingly unreliable" crematorium will stop taking bookings until its replacement is built, council bosses have said.
Cheltenham Crematorium has battled reliability problems since two cremators were installed in 2012.
Services will continue to be held in the chapel, but cremations will take place in Gloucester or further afield.
Mike Redman, from Cheltenham Borough Council, said: "Unfortunately the plant has been increasingly unreliable."
A new £8.5m crematorium, being built close to the existing site on Bouncers Lane, is due to open next spring.
The current crematorium, which is run by the borough council, has had problems with the cremators since they were installed six years ago.
Additional costs
Services were suspended in February after smoke was released into the building.
Cheltenham funeral director Ian George said the decision could "potentially" cost a family extra money.
Mr Redman admitted there could be "some additional costs" and said the council would be doing its "very best" to try to honour current bookings.
He said: "Gloucester City Council have offered to take up to four additional cremations a day on top of their scheduled service bookings.
"But over the winter period there will be a peak that we won't be able to cater for at Gloucester and that will mean that some cremations will have to take place further afield.
"In the past when we've had very serious issues with volume, we were transporting coffins as far as south Wales and Somerset in order to cater for that demand."