Fan donates Cadbury memorabilia to company archives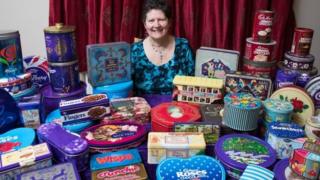 The "biggest private collection" of Cadbury memorabilia is being donated to the company archives by an avid fan.
Gill Cocks from Gloucestershire has been collecting since the 1970s and has so far gathered over 5,000 pieces.
She said: "There are quite a lot of different tins and boxes, mugs, Cadbury vehicles, a milk churn - which is quite big - and an enamel advertising sign."
Some items will be archived with others displayed as the Gill Cocks collection at Cadbury World in Birmingham.
'Absolutely delighted'
She said: "They think it might be the biggest private collection in the world.
"I'm absolutely delighted to be able to give some of the collection to the archive and some to the Bournville Experience, where I know it will be displayed and looked after.
"More people can enjoy it - nobody's enjoying it while it's sat in my attic."
The collection contains some rare pieces, such as a Cadbury family Bible from the 1800s, a milk churn and mini-Cadbury vehicles.
Mrs Cocks, from Winchcombe, inherited her father's collection when he died eight years ago.
The Cadbury Foundation has donated £5,000 to Mrs Cocks' chosen charity as a gesture of thanks for the items.