Gloucestershire schools in £5k exclusion fine proposal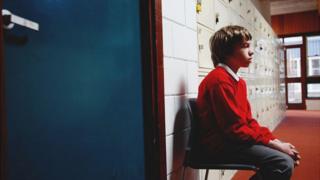 Schools which exclude pupils could be fined £5,000, a council has proposed.
Gloucestershire County Council came up with the idea after it found the number of permanent exclusions in the county was above the national average.
It said it hoped the plans could reduce the number of exclusions and the fine would be paid to the school that took in the excluded student.
A council spokesman said a decision would be made in December after a consultation on school funding.
During the 2016/17 academic year 141 pupils were permanently excluded in Gloucestershire. There were also more than 3,500 fixed period exclusions.
Money 'insufficient'
Sarah Murphy, from the National Education Union, said: "Offering a school £5,000 to take on a student that had been excluded from another school is a completely insufficient amount of money, because that goes nowhere towards providing the support that that student might need in terms of perhaps one-to-one support in a classroom."
Head teacher Gary Watson, from Tewkesbury School, said many students that were permanently excluded had "complex needs".
"Some schools within the county cater for a very privileged intake and very rarely need to permanently exclude.
"They, too, are financially blessed with a full intake year-on-year. Other schools have a disproportionate number of children from difficult and disadvantaged backgrounds and are more likely to have to deal with social issues.
"Any fine, therefore, is likely to hit some schools harder than others and probably those in the most difficult circumstances," he said.