Roman mosaic replica 'could come home' to Woodchester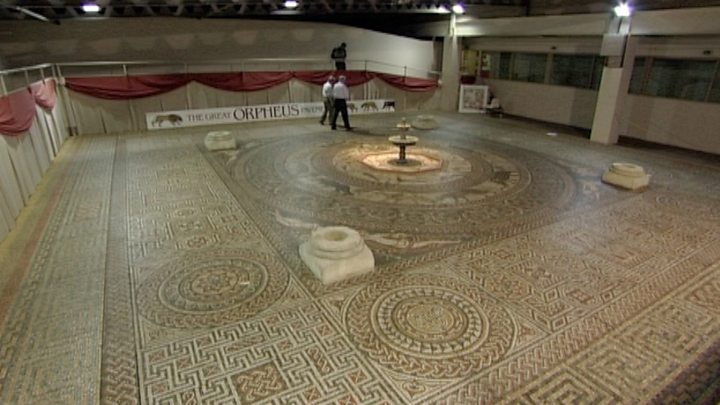 A world famous replica of the largest Roman mosaic to be found in Britain could come home to the Gloucestershire village where the original is buried.
The replica of the Orpheus pavement, found in Woodchester near Stroud, is made up of 1.6 million pieces and took its creators 10 years to complete.
It was sold in 2010 to an overseas buyer, despite a campaign to save it.
The replica was never installed in a villa in Italy and the owner is now prepared to sell it back.
The original 4th Century Great Orpheus Pavement, which depicts Orpheus charming all forms of life with his lyre, is the largest known Roman mosaic north of the Alps and is buried beneath the churchyard in Woodchester.
It was discovered in 1793 and was uncovered about every 10 years up until 1973 when about 140,000 people came to see it over a seven-week period.
It caused traffic chaos in the village so locals decided it should never again be exposed.
Brothers Bob and John Woodward spent 10 years making their exact copy in the 1970s and 1980s.
They were forced to sell it in the 1990s, and when it was later sold at auction in 2010 locals campaigned to keep it in Gloucestershire.
But they feared it would never be seen again after they were outbid by an anonymous overseas buyer who paid £75,000.
Now a BBC investigation has revealed the replica was bought to go in a private villa at Lake Como, but due to the owner's personal circumstances it was never installed and has remained in storage ever since.
You may also like:
Joshua Sinai from Sinai and Sons, London art dealership, said his client was "open to selling it back".
"Potentially it could go back to the local community to be on display for the public to see," he added.
"He feels that the work that was put into it, and the time that it took, he wants it to be viewed by a wider audience."
Iain Dunbar from Woodchester parish council, said negotiations had begun to initially borrow the replica to put it on display and eventually buy it.
"We lost the pavement once, this may be our last chance of getting it back. We're really determined to make the most of this opportunity."
Bob Woodward, 85, said he had dreamed about one day seeing his creation again and would welcome it "with open arms".
"It was huge part of our lives," he said. "The saddest thing of all was having to sell it."