Gloucestershire town's 'alarm' over gas balloon filming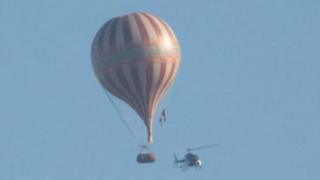 Onlookers were "relieved" to find out a gas balloon they feared was "in distress" was actually being filmed for an upcoming movie.
Some residents in Newent, Gloucestershire, expressed concern the balloon was out of control or had run out of fuel at about 09:30 BST.
A film crew was shooting scenes for period drama The Aeronauts, starring Eddie Redmayne and Felicity Jones.
Onlooker Pat Cowgill said she was "relieved no one was in trouble".
She said: "I wondered if it had run out of fuel or it had come loose from its tether.
"Several things were running through my mind and I was concerned they might not be in control or were trying to avoid the town if they had to make an emergency landing."
Fellow Newent resident Heather Toye said "some of the villagers were alarmed", and it looked like "something was wrong" with the balloon, which seemed to be "in distress".
The balloon "looked wonky" and the helicopter seemed "very close" to it, Ms Toye said.
She added that it was "very exciting" that a film scene was being shot above the "sleepy village".
Gloucestershire Police confirmed the balloon and helicopter were "associated with the filming of a new Eddie Redmayne film".
A spokeswoman for the Chase Hotel in nearby Ross-on-Wye confirmed that a small film crew for The Aeronauts had booked in for two nights.
She added no actors had been involved in the filming, which mainly consisted of aerial footage of the balloon in flight.
"We've had lots of locals pop in and watch filming, and people ringing up", she said.
"Everyone is gutted that Eddie Redmayne is not going to be here."
Set in the 19th Century, The Aeronauts sees a young couple mount a balloon expedition to fly higher than anyone in history.
It is being produced by Amazon Studios and Mandeville Films and will be released in 2019.