Hot air balloon makes emergency landing in Gloucester street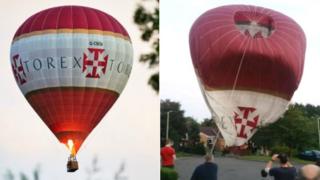 A hot air balloon was forced to make an emergency landing in a suburban street.
It came down in Gloucester on Thursday evening when the wind dropped and the pilot ran out of gas to keep it airborne.
Residents in Stewarts Mill Lane in the Abbeymead area of the city helped to keep the balloon on the ground while a crew with a trailer retrieved it and helped passengers get out.
The landing has been reported to the Civil Aviation Authority.
Resident Matt Thomas said: "I was coming home last night and saw the balloon quite low in the sky.
"I saw the balloon getting lower and lower, so decided to try to find out where it was.
"It then landed in the street behind my house and luckily managed to find an empty space to land."
The balloon took off from Gloucester Airport in Staverton on a scheduled flight but lost altitude towards the end of its journey when the wind dropped.
It did not have enough gas to gain altitude, so the Ballooning Network said the pilot chose the street because it was a large open space with fewer lampposts than surrounding roads.
The firm's PR and marketing manager, Tony Rees, described it as "a very rare occurrence".
"An experienced pilot was in charge of the balloon and he brought it into land slowly, steadily and upright," he said.
"No-one was hurt, a retrieval crew was waiting and standard procedures were followed. It was a text book landing."