DNA call for Korean War victim families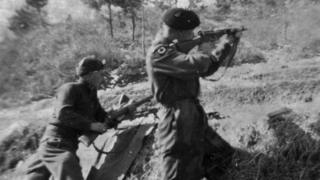 Relatives of soldiers killed or missing in action in the Korean War have been asked to provide DNA samples to help identify remains that are recovered.
The Ministry of Defence (MoD) said the "Glorious Glosters" feature heavily on a database of soldiers killed in North Korea with no known grave.
UK personnel identified will be given military funerals at the United Nations cemetery in the Republic of Korea.
The MOD said it would pay for immediate family members to attend the services.
At a summit in June, President Trump and North Korean leader, Kim Jong Un, signed an agreement to recover remains from North Korea and return them to the USA for identification.
A United Nations coalition fought alongside soldiers from South Korea during the war, between 1950 and 1953, to support the South against the Communist North.
About 33,000 coalition troops remain unaccounted for.
Nicola Nash, from the MoD's Joint Casualty and Compassionate Centre (JCCC), based at Imjin Barracks in Gloucester, said: "We are currently attempting to gather the contact information of the families of these brave men who were killed during the Korean War but have no known grave.
"Although the process of tracing families, DNA testing and identification will probably take many years, we are hoping that as many families as possible will come forward after seeing our press appeals so that we are prepared."
The Gloucestershire Regiment earned the nickname the Glorious Glosters during The Battle of Imjin River in April 1951.
About 650 Glosters held out against 10,000 Chinese troops for three nights.
Most of the battalion were either killed or captured, with only 40 men being able to escape.