'Unprecedented' level of staff sickness shuts M48 bridge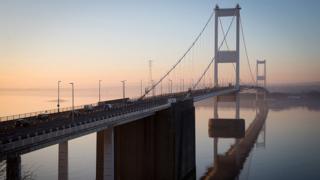 An "unprecedented" level of staff sickness led to the closure of the M48 Severn Bridge westbound.
Tollbooths on the bridge were shut in order to protect the safety of staff and drivers, Highways England said.
Motorists had been advised to travel via the second Severn crossing, now known as the Prince of Wales Bridge, instead.
All westbound lanes were shut, between junctions one and two, from 05:00 BST before being reopened at 14:10 BST.
Earlier, a spokeswoman for Highways England said: "This is an unprecedented level of staff sickness.
"If we haven't got staff members in crucial roles on the toll plaza it is not safe for our team or the drivers so we have taken the decision to close the tolls.
"We are telling motorists to use the other bridge.
"Staff have been diverted to the second Severn crossing to assist staff there and keep traffic flowing."
The closure affected the stretch of motorway which links Chepstow in Monmouthshire and Aust in South Gloucestershire.
It remained open in the eastbound direction, which is not controlled by tolls.
The Grade I-listed bridge, which orig­i­nally formed part of the M4 until the Sec­ond Sev­ern Cross­ing opened in 1996, carries about 17,000 vehicles per day.