Crashed stolen bus had featured in This Country TV show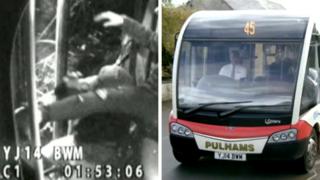 A bus that was written off by two drunk teenage joyriders in the Cotswolds was the same vehicle featured in a mockumentary about bored young people in the area, it has emerged.
A CCTV camera recorded Harry Atley, 19, and Thomas Bloomfield, 18, shouting and swearing as they drove it last year.
The same bus was used in an episode of the Bafta winning comedy This Country.
In one scene the character Kurtan taunts the bus driver by flagging down the bus and then not getting on.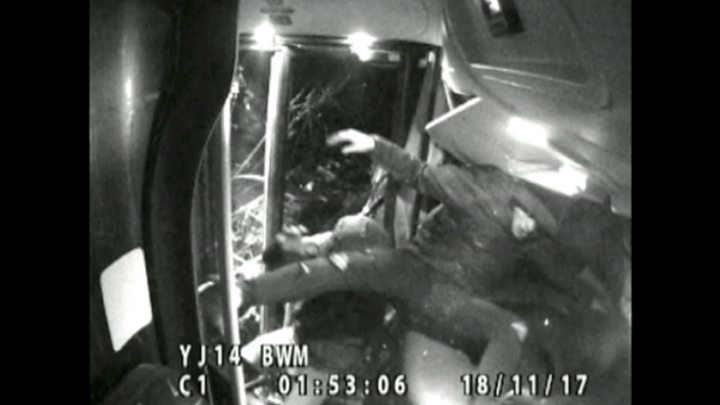 The CCTV footage shows the registration of the stolen bus - YJ14 BWM - is the same as the one used in the second series of the TV show, in the episode Steam Fair, which was shown in April.
This Country is a spoof documentary that follows the lives of marginalised and disadvantaged young people in a Cotswolds village.
The main characters - cousins Kerry and Lee "Kurtan" Mucklowe - are played by siblings Daisy May and Charlie Cooper, who also write the show.
The BBC Three programme picked up best scripted comedy and best female comedy performance at this year's Baftas.
The bus, owned by Pulhams Coaches, features in two scenes in the episode.
In the first, Kurtan is seen taunting the driver by flagging the bus down and then not getting on.
Later in the episode, the same driver refuses to pick up Kurtan and Kerry, forcing them to walk home.
In a tweet, Charlie Cooper described it as "mental".
"Or is there only one bus in the Cotswolds?" he added.
Atley and Bloomfield were given suspended sentences and banned from driving for two years after they drove the stolen bus from Tetbury to Malmesbury and crashed it into a hedge.