Wallace the mule wins first dressage event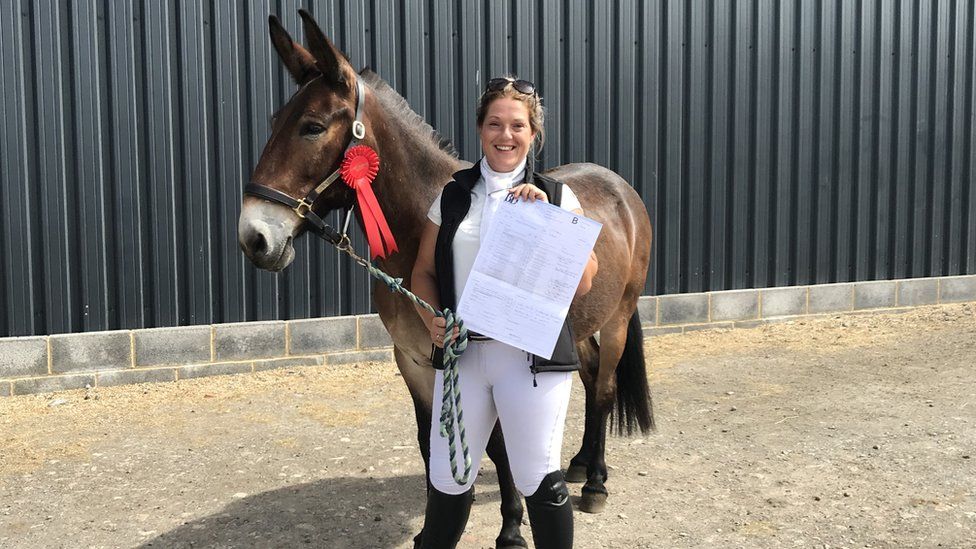 A rider recently granted permission to compete in top UK dressage events with her mule has won her first official competition with him.
Christie Mclean from Stroud, Gloucestershire was initially prevented from competing with Wallace because mules were barred from entering.
However, after the case received considerable press attention, British Dressage changed its rules.
The pair won the affiliated dressage event in Gloucester.
Ms McLean, who competes in entry-level British Dressage, said she was "thrilled" and "over the moon" following the win.
"This journey has ended so positively. I am beyond words," she added.
A mule is a hybrid animal born of a male donkey and a mare.
Previously only ponies and horses could compete in dressage but now all animals born to a mare can take part.
Wallace, 11, was rescued by Sidmouth Donkey Sanctuary in Devon after he annoyed villagers in Ireland by tucking into their flowers.
Ms Mclean, 31, started teaching Wallace dressage with the blessing of his guardian, Lesley Radcliffe.
After her horses went lame, she asked permission from British Dressage to enter Wallace into her team - when the restriction to mules came to light.
Related Internet Links
The BBC is not responsible for the content of external sites.