Wallace the mule gets permission to compete in dressage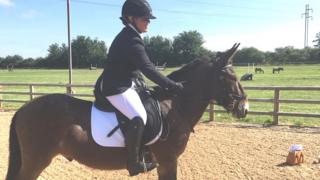 A rider who called for mules to be allowed to compete in top UK dressage events has successfully led to British Dressage changing its rules.
Christie Mclean from Stroud, Gloucestershire, was initially barred from competing with Wallace the mule.
British Dressage said it had now brought its rules in line with the international body to allow mules.
Previously only ponies and horses could compete but now all animals born to a mare can take part.
By definition a mule is a hybrid animal born of a male donkey and a mare.
Ms Mclean has been approached for comment.
'Inclusion and diversity'
Chief executive of British Dressage Jason Brautigam added: "We are grateful that this situation has been brought to our attention so we can now ensure our rules are brought in line with the FEI (Fédération Equestre International).
"We are delighted to welcome Wallace and his fellow mules to compete with BD, as part of our commitment to inclusion and diversity in dressage, making the sport more accessible to all."
Wallace, 11, was rescued by Sidmouth Donkey Sanctuary in Devon after he annoyed villagers in Ireland by tucking into their flowers.
Ms Mclean, 31, started teaching Wallace dressage with the blessing of his guardian, Lesley Radcliffe.
She competes in entry-level British Dressage and needs four horses on a team in an event called Team Quest.
After her horses went lame, she asked permission from British Dressage to enter Wallace into her team - when the restriction to mules came to light.
Speaking before the rule change she said: "So far, he is doing amazingly, he's scoring really, really high in unaffiliated dressage beating lots of other ponies.
"He's always super chilled and laid back about it, he absolutely loves doing it."