Dowty Propellers planning Gloucester return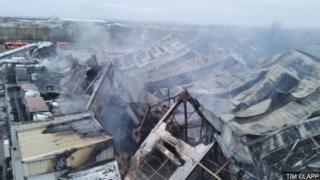 Aircraft firm Dowty Propellers has announced its intention to build a new base in Gloucestershire.
The company aims to set up at Gloucester Business Park in Brockworth after a fire destroyed its headquarters in Staverton in 2015.
Since then its 380 employees have been based at temporary sites around the county.
World-class propellers for planes such as the Hurricane and Spitfire were built at Staverton for nearly 80 years.
The move comes as Airbus has warned it could leave the UK if the country exits the European Union single market and customs union without a transition deal.
Welcoming Dowty's intentions to stay in Gloucester, Tewkesbury MP Laurence Robertson said: "It's very important; the company could have gone to America but has chosen to stay in the UK, Brexit or not."
He added: "I don't think Brexit needs to kick us; it's in the European Union's interest to do a deal with us."
Aviation journalist Julian Bray said the fire had allowed Dowty to introduce new equipment more quickly.