Gloucester church restoration mural depicts historical scenes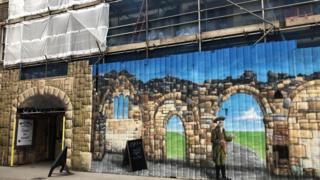 Scaffolding covering a medieval church while it is being renovated has been decorated with a mural depicting a historical street scene.
Hoardings outside St Mary de Crypt Church in Gloucester have been painted by a local street artist.
It was commissioned by staff at nearby Cafe Rene in a bid to attract trade, which they said had been affected since restoration work began in April.
Rev Nikki Arthy said it was a "really creative idea".
The painting by artist Tom Brookes, known as Trix, depicts the city's old south gate, St Oswald's Priory, Aethelflaed - Lady of Mercia and Robert Raikes - founder of the Sunday School movement.
The cafe's manager, Stephen Grimes, said he "had to do something" when the scaffolding first went up due to a "bit of a slump in trade" caused by it covering an archway leading to his business.
"It's going to be absolutely beautiful once [the restoration work] is done, but when the black hoardings went up we were pretty hidden.
"This has created a nice little buzz about the town."
You may also like:
Rev Arthy, vicar of Mary de Crypt, said it was a "really creative idea" which she was "delighted to receive".
"We've worked really hard throughout this project to get on well with our neighbours. Cafe Rene [is] an important neighbour to work with."
St Mary de Crypt is currently closed while a £1.36m Heritage Lottery funded refurbishment of the church and adjoining Tudor schoolroom takes place.
The Grade I listed church is of Norman origin and was substantially rebuilt in the late 1300s.
The project is due to be completed in March next year.