Stolen skeleton found on sofa in 'Santa hat' by officers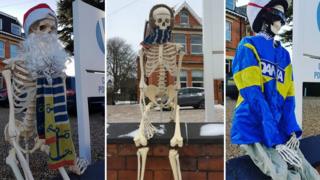 A life-sized skeleton taken from outside a clinic has been found sitting on a sofa in a Father Christmas hat by police officers.
Bony Tony went missing from outside the Regency Clinic on Hales Road in Cheltenham at the end of May.
On Friday, the plastic skeleton was found and returned by two officers "investigating an unrelated offence".
The clinic's reception manager said: "His head's a bit wobbly and his arm's fallen off but everybody's happy."
The skeleton, which is dressed up for different occasions, has been a "landmark" outside the clinic for four years.
When he went missing on 30 May, clinic staff were left "devastated" and a Facebook post revealing the news attracted hundreds of comments from fans.
Despite not reporting the missing skeleton to police, the clinic said Bony Tony was discovered by two officers during a house call.
"They'd just gone into someone's house and saw him sat there on a sofa with a Christmas hat on," said reception manager Jacqueline Barlow.
"They said they knew Bony Tony from walking past and their children waving to him and knew he didn't belong there and brought him back."
Last year, the skeleton lost a number of body parts in the run-up to Valentine's Day, which were later found in nearby gardens.
This time, Ms Barlow said they "don't know where he's been" but "he's a bit worn out" and his arm needs re-attaching.
"He's just a bit shattered so he won't be out permanently on the wall again - he's having a rest," she said.
"And we've got a new skelly - who's chained to the wall - but Bony Tony will make the odd guest appearance back on the wall on special occasions like race day."