Children discover St Oswald's Priory 'tower'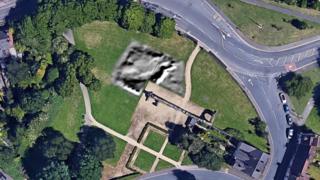 A group of primary schoolchildren have uncovered a previously unknown building near a medieval priory where King Alfred's daughter was buried.
Pupils from two schools in Gloucester carried out a geophysical survey as part of Aethelflaed 1100 - a series of events marking 1,100 years since Aethelflaed, the Lady of Mercia, died.
She was buried at St Oswald's Priory in the city, which is now a ruin.
Experts said the "really significant" find could be a tower or chapel.
Gloucester City archaeologist Andrew Armstrong said the discovery, by pupils from Dinglewell junior and Calton primary schools on Thursday, appeared to be a structure attached to the priory.
"It looks like walls extending to the north west and north east, at right angles to the standing structures on site.
"It's very difficult to know what this is. This part of the site's never been excavated."
He added that no structure existed on historic maps he had consulted.
"We know there was church, a school and other structures [nearby], but nothing corresponds to what we're finding."
Mr Armstrong added it could be a "really significant find" associated with the priory, possibly a tower or a Chantry Chapel.
"It could well be associated with the abbey at St Oswald's which could make it a medieval structure, a Norman structure... there's a very slight chance it could be Saxon."
He said it was the first time the site had been surveyed since the 1970s.
Aethelflaed was born in about 870 AD and was the eldest daughter of King Alfred the Great.
She led armies against the Vikings and Welsh, and is believed to have been interred at St Oswald's Priory, which is Grade I-listed, after she died in 918 AD.
Mr Armstrong said he now wanted to carry out a more detailed magnetometry survey of the site.