Rubbish firm Amey 'lost' 2,000 tonnes of Gloucester recycling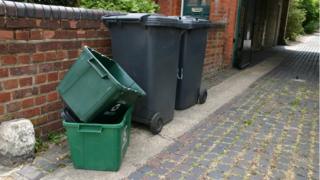 A waste collection company "lost" 2,000 tonnes of rubbish, costing local taxpayers hundreds of thousands of pounds, a councillor has said.
Amey lost the equivalent of 150 bin lorries of waste to be recycled, valued at £60 per tonne, costing Gloucester City Council £246,059.
Councillor Richard Cook said he was "extremely angry" and had ordered contract payments to be stopped.
Amey insisted the firm could "account for the recycled material".
'Bitterly disappointed'
The company holds the contract to collect and sort Gloucester's kerbside waste. The more recycling it collects, processes and then sells, the lower the amount the city council has to pay for the contract.
But at the end of March, Amey declared an income of £446,000, well below their lowest income estimates of £669,000 which they had branded the "worst-case scenario".
As well as the lost recycling, an estimated figure of £50,500 was missed due to recyclable materials being mixed up when being sold, bringing down the value of the waste.
Mr Cook said the "unsatisfactory standard" has forced the council to stop its contracted payments and demand £297,032.32.
"I was surprised and bitterly disappointed to learn that in our April meeting that income out-turn would be £446,000, significantly below the worst-case forecast just weeks earlier," he said.
"I have given instructions to officers to withhold £300,000 from our next invoice payment, and we will have an argument with them to figure out what will happen.
"I can assure residents that we will not be letting this matter rest as getting good value for taxpayers' money is what residents quite rightly expect from us," he said.
Amey blamed restrictions imposed on the export of recyclable materials for the price of recycled waste going down.
"We always aim to deliver a high-quality and cost-effective service for Gloucester and its residents and work hard to ensure we are meeting our contractual commitments," the firm said.