Ah'Kiell Walker trial: Baby killer dad gets 10 years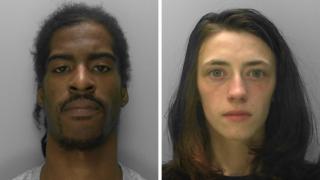 A father whose baby son died after he shook him and immersed him in water has been jailed for 10 years.
Ah'Kiell Walker died from a brain injury after he was found "freezing cold" and with four broken ribs and a broken shoulder in July 2016.
Alistair Walker, 27, was found guilty of manslaughter and cruelty to a person under 16 at an earlier hearing at Bristol Crown Court.
Mother Hannah Henry was jailed for four years for causing or allowing death.
Judge Sir John Royce, said Walker, of Lansdowne Green, south London, was a "controlling and manipulative bully".
He said 22-year-old Henry, of Tuffley, Gloucester, was "obsessed" with Walker and controlled by him.
Addressing Walker, Judge Royce said: "It's clear to me that it was you who broke Ah'Kiell's ribs. On the medical evidence that would have taken considerable force, and Ah'Kiell would have screamed in pain for some minutes.
"You know [what happened] but have decided not to reveal it. You thought that if you denied everything you'd get away with it."
The judge told Henry she was "aware" Walker had injured three-month-old Ah'Kiell's ribs.
"Time and again you put your obsession with him ahead of your duty to protect your son," he said.
"You also haven't disclosed what you know about what happened, in part at least, to try and continue to protect Alistair Walker."
The pair had claimed they found the child unresponsive at the family home in Archdeacon Street, Gloucester, before calling 999.
A pathologist's report found the baby had four broken ribs and a fractured shoulder, which were caused four to eight weeks before his death.