Thieves target Gloucester hunger strike man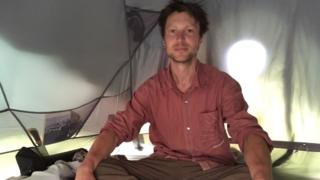 Thieves attempted to steal the sleeping bag of a man on hunger strike over a controversial incinerator.
Sid Saunders, who is camped outside Gloucestershire County Council's headquarters, said his tent was unzipped during a night of heavy rain and his sleeping bag taken.
Mr Saunders got it back when he gave chase in the early hours of Friday.
He has not eaten for four days in a bid to force the authority to release documentation about the incinerator.
It is being built close to junction 12 of the M5, south of the city.
Mr Saunders claims the £500m contract with Ubaser Balfour Beatty (UBB) has been granted without any democracy or transparency.
Despite fierce opposition, the contract was awarded in 2013 to contractors UBB.
A tribunal ruled the council must release the contract but it has since been revised.
Campaigners are fighting for the new version to be made public, arguing that it does not represent value for money.
A spokesman for the council, said: "We are going through the recent changes to the contract as quickly as possible to see what we can legally release and will update the public as soon as we can."
Father-of-two Mr Saunders said he had not reported the incident to Gloucestershire Police but the force encouraged witnesses to get in touch.