Extreme adventurer Sean Conway breaks Europe cycle record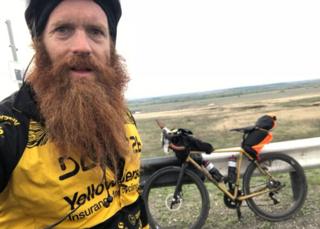 An extreme adventurer says he has set a new world record for the fastest crossing of Europe by bicycle.
Sean Conway, 37, from Cheltenham cycled about 4,000 miles (6,500 km) unsupported from Portugal to Russia in 24 days, 18 hours and 39 minutes.
The bearded athlete, who set off on 16 April, said he was "relieved" to have finished. "It was the most intense three weeks of my life."
Mr Conway's new record is awaiting ratification from Guinness.
The previous record of 25 days, 3 hours and 38 minutes was set last year by German rider Jonas Deichmann.
Mr Conway's mother, Babette Pinder, said: "I knew he would make it. I had every confidence in him. I don't worry about Sean.
"But what does pull my heart strings, to see him so tired and so thin, it's horrible."
She said her son would not have time to celebrate because he needs to catch a flight home on Saturday in order to fly to South Africa on Monday to attend his sister's wedding.
Mr Conway rode from Cabo de Roca in Portugal to Ufa in Russia unsupported, meaning he was cycling solo and carrying all of his kit with him.
This is not the first time Mr Conway has taken on an endurance challenge.
In 2015, he became the first person to complete a run, a cycle and a swim each the length of the UK.
Mr Conway ran the 1,000-mile (1,610km) distance from John O'Groats to Land's End. He spent months swimming between the two points in 2013, having already cycled the distance.
Later in 2015, he completed the journey a fourth time - by boat.
He also completed a 4,200-mile "ultra-triathlon" in 2016, circumnavigating the coast of mainland Britain by a mix of bike, swimming and running.
He had to abandon a record attempt for the fastest crossing of Europe by bicycle last year due to injury,