NHS trust £14m debt partly 'due to patient system failure'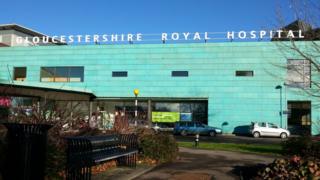 The failure of a computerised patient record system lost an NHS trust £10m, according to its chief executive.
Gloucestershire Hospitals NHS Foundation Trust said the system failed to keep a record of "all activity taking place".
Because of this the trust was unable to bill the NHS Gloucestershire Clinical Commissioning Group (CCG) for work, including operations.
InterSystems, which provided the TrakCare system, declined to comment.
The error was part of a £14m increase in the trust's debt, which rose from £18m to £32m in the financial year up to April 2018.
This followed a forecast that the trust would have ended the year £14.6m in deficit.
The shortfall was revealed at a Gloucestershire County Council health and care scrutiny committee meeting.
'Public concern'
Trust chief executive Deborah Lee told the committee that TrakCare - a computer system introduced in 2016 - failed to record, capture and account all activity taking place.
Because of the failure, the trust could not recover as much money as it had expected, Ms Lee added.
She said she was "disappointed" in certain factors which triggered the rise, but said quality of care "was not affected".
Lib Dem councillor Iain Dobie said the failure of TrakCare was "clearly of public concern".
"The NHS should push the supplier for a refund and lessons must be learned," he said.
The trust, which runs Cheltenham General Hospital, Gloucestershire Royal Hospital and services at Stroud Maternity Unit, has been in special financial measures since 2016.