Ah'Kiell Walker trial: Father guilty of manslaughter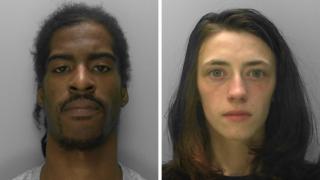 A father who shook and immersed his three-month-old son in water has been convicted of manslaughter.
Ah'Kiell Walker died from a brain injury after he was found "freezing cold" and paramedics had to tip water out of his mouth in July 2016.
The baby had four broken ribs and a fractured shoulder, doctors found.
Alistair Walker, 27, was found guilty at Bristol Crown Court and Ah'Kiell's mother Hannah Henry, 22, was convicted of causing or allowing his death.
Walker was also found guilty of cruelty to a person under the age of 16. Henry was acquitted of manslaughter.
Paramedics were called to the family home in Archdeacon Street, Gloucester, on 30 July 2016.
The pair denied harming their baby and claimed they had found him unresponsive before calling 999.
A pathologist's report found the baby had four broken ribs and a fractured shoulder which were caused four-to-eight weeks before his death.
During the trial Walker claimed the brain injury had been caused by a paramedic.
He also accused a second paramedic of "not looking like she knew what she was doing either".
Detectives found Walker searched the internet for "shaken baby syndrome", "can I squeeze my baby", "internal bleeding due to trauma" and "baby broken ribs" in the weeks before the baby died.
Other searches included "Can babies feel pain?" and "baby burst liver".
Ch Insp Richard Pegler of Gloucestershire Police described Ah'Kiell as "a beautiful baby boy".
"This was a complex and difficult case as we don't know precisely what happened that morning, there are only two people who do," he said.
"But what we do know is that Ah'Kiell's death was not natural or readily explained and that his injuries were indeed non-accidental."
Judge Sir John Royce told the jury of eight women and four men that the "harrowing features" of the case meant they would be exempt from jury service for 15 years.
The abuse was branded "horrendous" and "deeply shocking" by the NSPCC which has said it expects a review "will provide much-needed answers into how this tragedy took place".
"It is a sad reality that cases of abuse and neglect take place every day in homes across the country," added a charity spokesman.
"It is all of our responsibility to be alert to the signs that a child may need help and be ready to take action to protect them."
Walker, of Lansdowne Green, south London, and Henry, of Tuffley, Gloucestershire, will be sentenced next month.